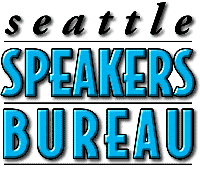 Speakers Bureau in the Northwest
Booking Speakers & Entertainers in Seattle
for over 35 years
Seattle Speakers Bureau established 1976
At Seattle Speakers Bureau, You are our client - not the Speaker!
National / Regional / Northwest
Speakers / Celebrities / Trainers
Call us now to discuss your needs: 206-779-5890
S ince 1976, Larry Diamond, Owner of A Diamond Production, Inc., has booked,
represented and presented thousands of speakers/trainers/celebrities at
conferences, conventions and special events. Seattle's Speakers Bureau offers you our
knowledge of the platform industry.


Our decades of experience as an industry leader assures our client's satisfaction. Our well
established relationships within the platform industry guarantee you the best terms,
prices and presenters. Seattle's Speakers Bureau candidly represents your interests in all
fee negotiations, block-books whenever possible, confirms availability and suitability
of talent for you and your business.
Call us now: 206-779-5890